With the combination of the Fed lowering the rates and the market sell-off last week, mortgage rates have never been this low since 2016. Thus, refinancing mortgage demand is up!
The three year low average went down low to 3.7% last Friday according to bankrate.com and more people qualifies to refinance their loans, taking advantage of the savings every month.
For a $300,000 loan with a .75% rate cut, would likely shave-off an average of $150/month in mortgage note.
Applications to refinance were up 116% this week compared to a year ago, this according to Mortgage Bankers Association.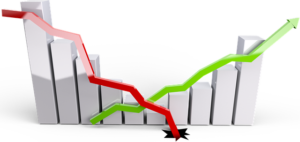 Mortgage lenders are scrambling to accommodate the applications and its looking to hire more employees to handle the demand. This is in the case of Quicken loans, where they are filing up their employee pool in its Detroit headquarters.
Millennials are the one's driving the mortgage refinancing increases. As a lot of other homeowners already refinanced their homes to these low rates after the great recession after 2013, savvy millennials are the ones taking advantage of these rates and save more every month.
There is a slight uptick with the home buying side. But unlike the mortgage refinancing increases, Home buying is a different perspective. A borrower needs to consider a lot more factors in home buying and we are in the last few weeks of home buying season and parents are not considering to disrupt their children's school schedule and move to a different place.
Citing instability in the markets
Citing the instability of current financial signals right now, buyers are apprehensive with homebuying. They are looking at the whole economy, looking at your own employment situation and investments.
The horizon of the trade wars and the volatility of the stock market makes an apprehensive buyer. So, expectation of home buyers surge into the market is a situation that might happen in the 4th quarter if the rates stick to its current level or even early 2020 when the general public would see stability in the rate market.
Also to consider, is the affordability of homes. Builders are trying to keep-up with demand and offer home for the first-time buyers but headwinds of high material costs, lack of skilled labor and high land costs slows down projects.
This is a big hurdle for most buyers since the availability of homes are scarce than the supply can handle.
For the average buyer looking into a specific market to buy a home. It pays to study and consider your financial standing first, unlike refinancing. Investigate the area that you are trying to buy and see if you can comfortably afford your new monthly note associated with having a new home.